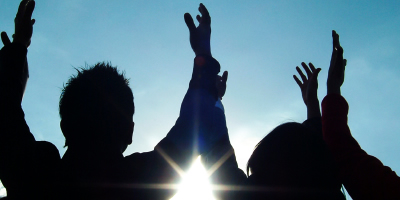 Worship is both a sacred command and a wonderful privilege—one of the few earthly activities we engage in that will continue in Heaven for all eternity. The full teaching of Scripture communicates that worship is the primary purpose of all people, whether they do it or not. We will be at our best and will receive God's best for us if we are worshipers of God.
Though in one sense every act of devotion toward God is worship and our lives are meant to be one continual offering of love to God, there is a special place in the Bible given to intentional acts of worship. The Book of Psalms highlights the acts of worship that are focused times of playing musical instruments, singing, raising hands in adoration, clapping, standing, kneeling, and even dancing in the glory of God. Music ministry is very important for us at Orange County First Assembly, and we believe that you will be blessed by those who minister to the Lord and to you through the gifts God has given them.

If you would like to be involved with our worship team, please contact the church office for more information.